Opis
Intrusion alarm systems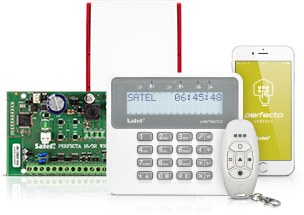 Simple configuration, intuitive operation and easy control – these features characterize an alarm system based on the PERFECTA control panels.
The series consists of: PERFECTA 16, PERFECTA 32, PERFECTA 32 LTE and PERFECTA-T 32 control panels, which allow you to create a tradictional hard-wired system, as well as PERFECTA 16-WRL, PERFECTA 32-WRL, PERFECTA 32-WRL LTE and PERFECTA-T 32-WRL, whose design makes it possible to create a wireless or hybrid installation.
simplicity and modernity
System structure
The control panel design enables you to build a traditional wired system with all the functionality needed in small and medium-sized facilities. Both zone expanders and output expanders can be connected to the control panel, thus increasing the number of supported devices. It's a simple and reliable way to quickly expand your system.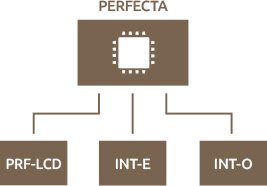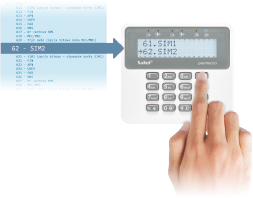 Quick configuration from keypad
Direct access to all service mode functions of the control panel is possible from the keypad. Therefore, individual settings can be changed quickly and easily, without having to use any configuration program.
Easy configuration from PC computer
You can also configure the system by using the PERFECTA Soft program. Its intuitive interface will guide you step-by-step through the stages of creating the system.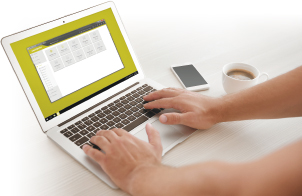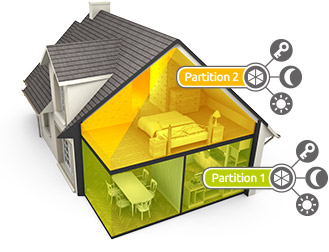 Partitions
The system based on the PERFECTA control panel can be divided into two detection partitions. Each of them can operate in one of three modes, which are independent of each other. This gives the whole system more extensive configuration options, typical of more advanced solutions.
PRF-LCD keypad
The PRF-LCD wired keypad has a large, easy to read LCD display that provides convenient operation and full control over the system. The user is informed by audible signals about selected events.
LEDs which indicate the status of the entire system have been provided above the keypad display. Buttons intended for quickly entering the desired armed mode and triggering alarms (PANIC, FIRE, AUX) are included in the set of buttons of the keypad.
The keypad allows the user to easily check the status of funds on the SIM card (in PERFECTA and PERFECTA LTE control panels).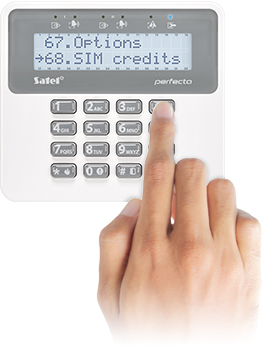 Solutions used in the PERFECTA control panels will be appreciated by professionals – both those who focus on known and proven traditional systems, as well as expecting additional, modern functionalities.
Wireless control
The heart of a wireless instalation is the PERFECTA 16-WRL, PERFECTA32-WRL, PERFECTA 32-WRL LTE or PERFECTA-T 32-WRL alarm control panel with a built-in 433 MHz radio module. It enables encrypted, two-way wireless communication with PRF-LCD-WRL keypads and MSP-300 R sirens, which offer full functionality of wired devices. The same module also allows for the inclusion of MICRA family wireless detectors into the system.
Specifically for operation of these control panels, the MPT-350 keyfob, having extended range and buttons with programmable functions, has been developed
PERFECTA 16-WRL, PERFECTA 32-WRL, PERFECTA 32-WRL LTE and PERFECTA-T 32-WRL control panels, together with wireless devices, can also be connected to wired devices, e.g. the PRF-LCD keypad or any detectors and sirens. In this way, a hybrid system is created, which makes it possible to even better match of the system components to the characteristics of the premises to be protected.
Mobile application
PERFECTA CONTROL
Control of the alarm system by using mobile devices is a solution whose popularity cintinues to grow. Therefore, the PERFECTA CONTROL application was created for remote operation of PERFECTA and PERFECTA LTE control panels.
Functionality of this application makes it a convenient tool to control the system and to check the status of partitions, zones and outputs. It also allows you to view current troubles and all events in the system.
Communication
The PERFECTA and PERFECTA LTE control panels have an integrated voice messaging module, offering the possibility to define 16 messages. There is also a module on the control panel mainboard, which enables communication via mobile network. It supports two SIM cards, which provides additional security in case of signal loss. This module makes it possible to monitor events to stations via mobile data transmission*, SMS and audio channel. Each of these methods can be used independently of the others; it is also possible to define the priority of their activation.
* data transmission via:
– GPRS for PERFECTA control panels
– LTE / HSPA + / EDGE / GPRS for PERFECTA LTE (depending on the capabilities of the cellular network)
PERFECTA-T control panels have a built-in PSTN telephone dialer, which can be used to perform event reporting, voice messaging as well as audio alarm verification (listening to the sounds from a protected facility).
Secure connection
In the case of PERFECTA and PERFECTA LTE control panels, the rich functionality of the PERFECTA CONTROL application and PERFECTA Soft program can be used safely through the SATEL connection setup service. It provides encrypted communication without the need to have an external IP address or carry out actions related to advanced network configuration.